Compare Mortgage Protection Insurance Quotes
Our mortgage protection insurance service includes:
Searching the market for the best value mortgage protection.
Applying policy life discounts of up to 20%.
Advising you and arranging the most suitable policy.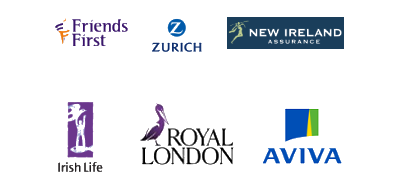 Mortgage Protection Insurance is a life insurance policy that clears the balance on your mortgage, if you pass away during the mortgage term.
Where the mortgage is in joint names, insurance for both parties is required and this is arranged through a joint mortgage protection policy and a claim will be paid out on first death.
Mortgage protection insurance is required by law for anybody taking out a home mortgage, under the age of fifty. There is an exception to this requirement in cases where a medical condition results in the inability to get life cover.
You can also use a term life insurance policy as security for your mortgage, provided the term and the amount of cover is not less than the mortgage amount.
The cost of mortgage protection insurance is based on the following factors:
The mortgage amount
The mortgage term
Your age
Your health
Smoking status
Premiums are fixed for the duration of the policy.
Please use this mortgage protection calculator to compare quotes from all the leading life insurance companies in Ireland. The calculator will also display our best quote after we apply our online discounts.
For more details on mortgage protection please visit our Frequently Asked Questions.
Flexible Mortgage Protection Insurance from Mortgages.ie
Our Flex Mortgage Protection Insurance offers you a great opportunity to get peace of mind in regard to future protection needs, by giving you the option to convert your mortgage protection insurance to a term protection policy at a future date, up to the amount of the original mortgage protection sum insured.
Take the example of a mortgage protection policy starting at €300,000.The policy is designed to reduce in line with your mortgage balance over the term of your mortgage so that it will clear your mortgage in the event of a claim - the value of the policy therefore reduces in line with your mortgage.
The Flex policy allows you to change the cover back to €300,000 and extend the term of the policy without providing new medical evidence.
We make arranging your mortgage protection insurance really easy.
As Life Insurance and mortgage protection brokers, our mission is to provide you with unrivalled service and value. Your application can be completed online and signed using digital signature facilities.
Take a minute to complete our mortgage protection calculator.
The mortgage protection calculator will display the comparative results and calculate our best discounted offer for you.
We will contact you to discuss your requirements and advise you on all your options.
If you wish to proceed we will direct you to your digital application .
Approval usually takes 24 hours for standard applications without underlying medical conditions
Mortgage protection add on benefits
Our Mortgage protection calculator was the first calculator in Ireland to compare mortgage protection quotes and provide full online discounts.
The most important feature of your protection policy is the cover on your life. There are some other benefits available, which differ between providers and we will advise you on the merits of these benefits.
Examples of free benefits include:
Life events cover. Increase your cover without the necessity to provide medical evidence on certain life events, such as having a baby or moving house. Benefits vary between companies.
Free medical second opinion. Very useful addition from some providers and the service is available to the policy holders, their children and the policy holder's parents. Second medical opinions very often recommend different treatments than are currently being recommended by your consultant.
Free dual life mortgage protection cover. This facility is included in one insurer's standard benefits, at no extra cost - so the mortgage protection policy could pay out twice in the event of both parties to a policy passing away.
Children's Life Cover, typically between €4,000 and €7,000 - Zurich do not have this facility.
Non Smoking Declaration - Only Royal London allow you to revert to non smoker rates on an existing policy, if you give up cigarettes at a later date - assessed on a case by case basis.
Children's serious illness cover automatically included if you take out a qualifying serious illness policy - typically €25,000, not available through Zurich Life.
Medical support benefits - available through Royal London, Irish Life and Aviva.
Accidental Death Cover - during the period after you submit an application, up to a certain time limit - typically 30 days- not available through Royal London. The insurer will pay out a lump sum up to €150,000, subject to the case meeting qualifying criteria.
First month free cover. Available with some insurers.
Add on benefits that cost extra include:
Some insurers include an option to convert your mortgage protection policy. This allows you change the mortgage protection policy to a term insurance policy and extend the term without new medical evidence.
Accelerated serious illness cover. This benefit will significantly increase the cost of your mortgage protection cover. However, if you have a 100% benefit in place, this will clear the mortgage in the event of a specified seriou sillness.
Other benefits include limited hospital cash cover or personal accident cover which may be a useful low cost addition to your policy
Why use Mortgages.ie as your mortgage protection broker
There are many benefits to using a regulated impartial adviser as your advisor.
Our Mortgage protection partners include:
Zurich Life Insurance
Royal London Life Insurance
Aviva Life Insurance
Irish Life Insurance
New Ireland insurance
There is vast a vast array of product options available from our partners and we use our knowledge and expertise to find the right mortgage protection for you.
We use the latest secure technology to provide quotations and digital completion.
Our service has a huge personal element, where we get to know you and your needs, are there for you at the outset to arrange your policy and we are here to advise you on financial protection, financial planning and mortgage needs, as time goes by.
There is also the very important benefit that we will provide you with the best mortgage protection quotes available in Ireland!
Our mortgage broker business ensures you get the great value mortgages available from Ireland's leading lenders. See our Mortgage comparison calculator.
Recent mortgage protection testimonials
"Wanted to thank you for your help organising our mortgage protection insurance so quickly and efficiently.
You probably did not realise at the time, but we were under a lot of stress at the time and your involvement really expedited this difficult process." Sean
"Thank you especially for your help and quick response. We would not hesitate to recommend your company to other people when it comes to achieving the mortgage and life insurance. Eoin"
Mortgage Protection Discounts
We have arranged thousands of mortgage protection policies. Our online discounts are available for all standard quotations.
We always pass on all discounts available to us, to you.
Discounts do not apply where the standard policy quotation is increased by the Life Insurance Company of account of medical conditions.
Our special mortgage protection discount of up to 16% off the lowest quote in the market is currently available on all new standard rated policies accepted by the relevant insurer.
Mortgage Insurance Requirements
The insurance requirements that come with a mortgage fall into two categories. We will advise you on the merits of these protection products and recommend the most suitable products to you, based on your unique needs and your affordability levels.
Mandatory Insurance Cover
Mortgage protection insurance as outlined above
Home Insurance
Optional Cover
Term life insurance
Serious illness insurance
Income protection Insurance
Summary of Terms and conditions for Life insurance and Mortgage Protection Insurance Quotes
Non smoker premiums are based on the assumption that you have not smoked in the past twelve months
Insurance cover is subject to acceptance by the insurance company.
Prior to arranging life insurance or mortgage protection cover, we will ask you to complete an application form which includes a detailed health questionnaire.
Quotations are valid for seven days, or until your next birthday, whichever is sooner.
Where two applicants are included the quotation is calculated on a dual life basis except in the case of mortgage protection cover where joint life basis applies.
Serious illness cover quotes are on an accelerated basis at the cover level chosen
Insurance cover only commences on policy issue.
Information for our quotation service are provided for us through Broker information services, who receive quotation data from our Life Insurers.
Cover does not come into force until your policy has issued.. The terms of your chosen policy shall take precedence over any statement, representation, act or omission which may have been made by us and which conflicts with any terms of your chosen policy.
You must check all details on any proposal form or statement of facts and pay particular attention to any declaration you are asked to sign.
It is important that you read all documents issued to you and ensure that you are aware of the cover, limits, warranties, conditions and other terms that apply. Additional information on Life insurance and related products is also available at www.lifeinsurance.ie