How Much Can I Borrow?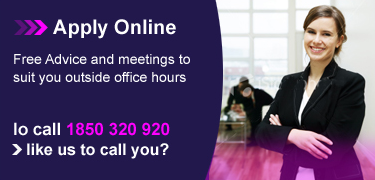 This calculator gives you an estimate of the maximum amount you will be able to borrow, based on your income.
Calculate how much you can borrow
Enter your details in the calculator to estimate the maximum mortgage you can borrow. After performing the calculation, you can transfer the results to our mortgage comparison calculator where you can compare all the latest mortgage rates.
Costs associated with getting a mortgage
Mortgage adviser fees - Here at Mortgages.ie we do not charge brokerage fees to home buyers
Stamp Duty 1% of the purchase price
Legal Fees €2,500 A typical budget including various taxes and duty
Valuation fees €150
Surveyor fees €400 -Not compulsory but highly recommended
On going costs after you move in
Your mortgage payment
Property tax .18% of the purchase price
Home insurance €35 per month estimate for new 3 bed houses
Mortgage Protection click Get a quote for your mortgage protection quote
The normal maximum borrowing level is 3.5 times your annual gross salary. Exceptions above this level are currently available
General rules below.
Can I Borrow more than 3.5 times gross income?
In our experience over 90% of applicants borrow at or below the 3.5 times income category. This is important and is indicative of the level of borrowing where most borrowers are comfortable. This 3.5 times limit can be exceeded in certain circumstances.
Exceptions to Central Bank rules
Most lenders are closed to income exceptions at present ( June 2019)
These exceptions tend to be given to applicants with higher income levels where additional repayment capacity is clearly evident,
As a rough guide exemptions are granted when income levels are higher as follows.
Single applicant Income > €50,000
Joint Applicants Income > €70,000
Each exception application is assessed on its own merits.
Can the minimum deposit rules be exceeded?
Central bank deposit rules require a 10% deposit for first time buyers. With the new help to buy scheme for first time buyers of new houses apartments and self builds, a tax rebate of 5% ( upper limit of €20,000 ) of the purchase price is potentially available on properties costing €500,000 or less.
First time buyers buying second hand houses cannot avail of this scheme..
A 20% deposit is required for second time buyers.
Exemptions to these rules are available for certain applicants, thus facilitating a lower deposit requirement.
Once again, exemptions are more likely to be available to individuals with higher levels of income where additional repayment capacity is clearly evident.
Each lender will offer a different borrowing level!